2nd National Conference on Wonders of the Small 2.0, Recent Trends in Microbiome Research, Exploring the Microbial Diversity, March 20-21, 2019
The Department of Microbiology, Pondicherry University, India, conducted a two day National Conference on "Recent Trends in Microbiome Research: exploring the Microbial Diversity on 20th and 21st March 2019 at Convention-cum-Cultural Complex of Pondicherry University. A total of 435 participants (Young faculty members/scientists, post-doctoral fellows, Ph.D. and M.Sc. students), 7 invited talks, 148 abstracts presented in poster/oral presentation sessions.
The conference was started with a pre-conference presentation on "The MicrobiomeSupport Ambassadors identified by "Horizon 2020" project "MICROBIOMESUPPORT": Towards coordinated microbiome R&I activities in the food system to support (EU and) international bioeconomy goals", coordinated by AIT, Austria. Following the invocation the welcome address was delivered by Dr. Joseph Selvin, organizing secretary of the conference. The inaugural address was delivered by Prof. Dr. Rakesh Aggarwal, Director, Jawaharlal Institute of Postgraduate Medical Education & Research (JIPMER), Puducherry followed by felicitation of Prof. Dr. A Wilson Aruni, Loma Linda University, USA and Prof. Dr. P.P Mathur, Dean School of life sciences Pondicherry University.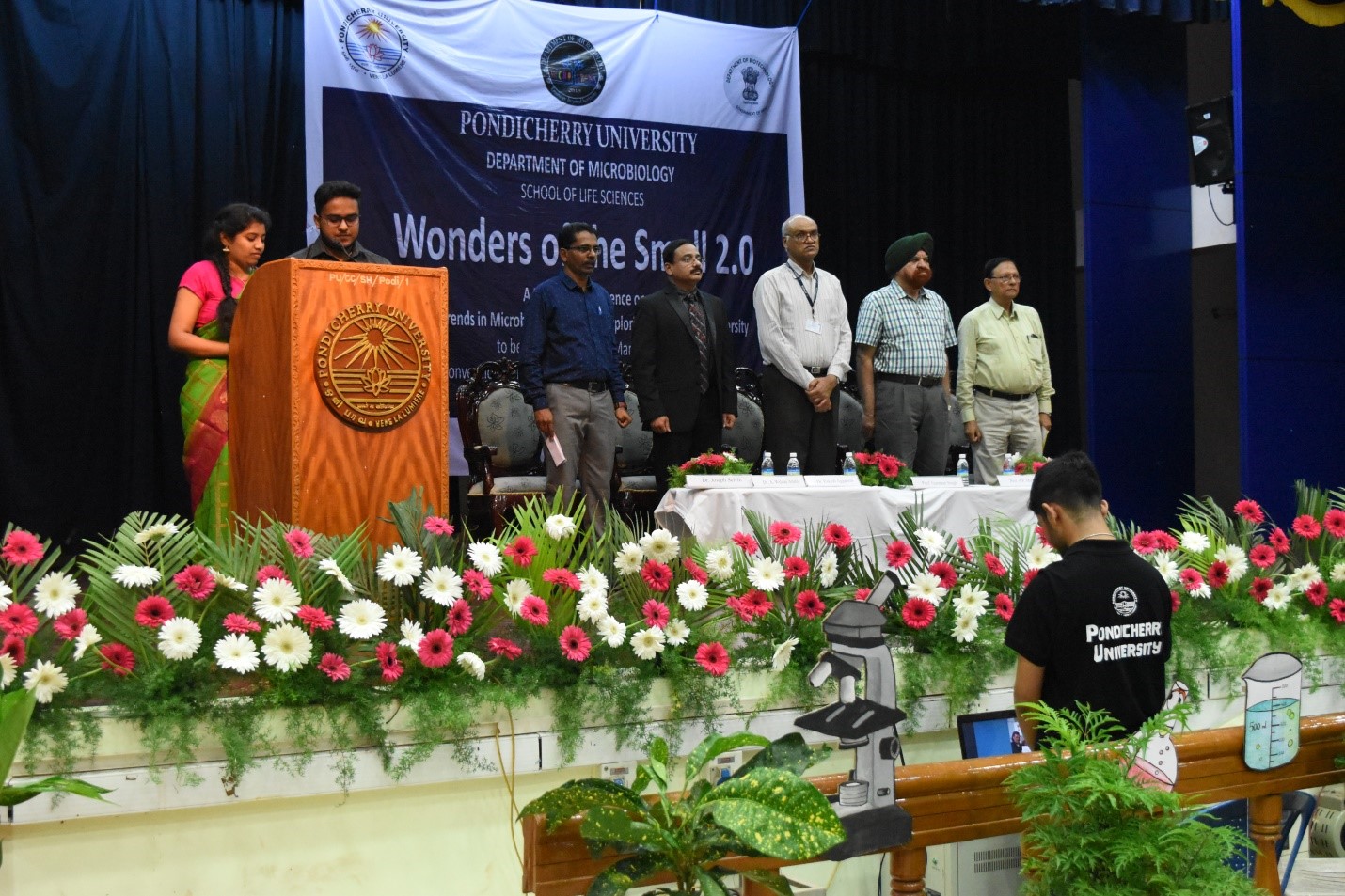 The presidential address was delivered by the Vice Chancellor, Pondicherry University, Prof. Dr. Gurmeet Singh. He spoke about the uniqueness of the human microbiome amongst individuals and about its dependence on the environment and lifestyle. He was encouraging and appreciative about the efforts taken to organize this conference.
Prof. Dr. P.P Mathur, Dean School of life sciences Pondicherry University drew a parallel between the human microbiome and organs. He spoke about the ongoing research on exploiting the microbiome for developing diagnostic markers to identify diseases. The inaugural was culminated with a vote of thanks by Dr. Busi Siddhartha.
Prof. Dr. Rakesh Aggarwal, Director, JIPMER, Puducherry kick-started the event by delivering a special address by shedding light on the role of microbiota in human health and diseases focusing on the gut microbiota. He briefed the audience about the development of newer-generation multi-parallel nucleic acid sequencing techniques and bioinformatic tools, permitting identification of various organisms and assessment of their relative densities in a mixed microbial specimen.
Dr.Wilson Aruni, Professor from Loma Linda University, USA delivered a talk on the Human Microbiome and their Interactions Predisposing to Health and Systemic Diseases. He related the role of oral microbiome to Alzheimer's disease and rheumatoid arthritis and Gut microbiome in obesity and mental illness. He focused on prioritizing a healthy microbiome for overall well-being. These talks engaged the faculty and students alike.
Following this invited talks on Microbiome Research in agriculture, medical sciences, marine and environment was presented by experts.
Various intercollegiate events include Facial Arts, Drawings, Culture Drawings on Petri Plates and Quiz competition were conducted (themes: Microbiome) to encourage Bachelor's students from various colleges. Winners were awarded with medals and certificates. In brief, the conference was a grand success.
Acknowledgment: We thankfully acknowledge the Horizon 2020 MicrobiomeSupport project which is an inspiration to schedule this conference in India.