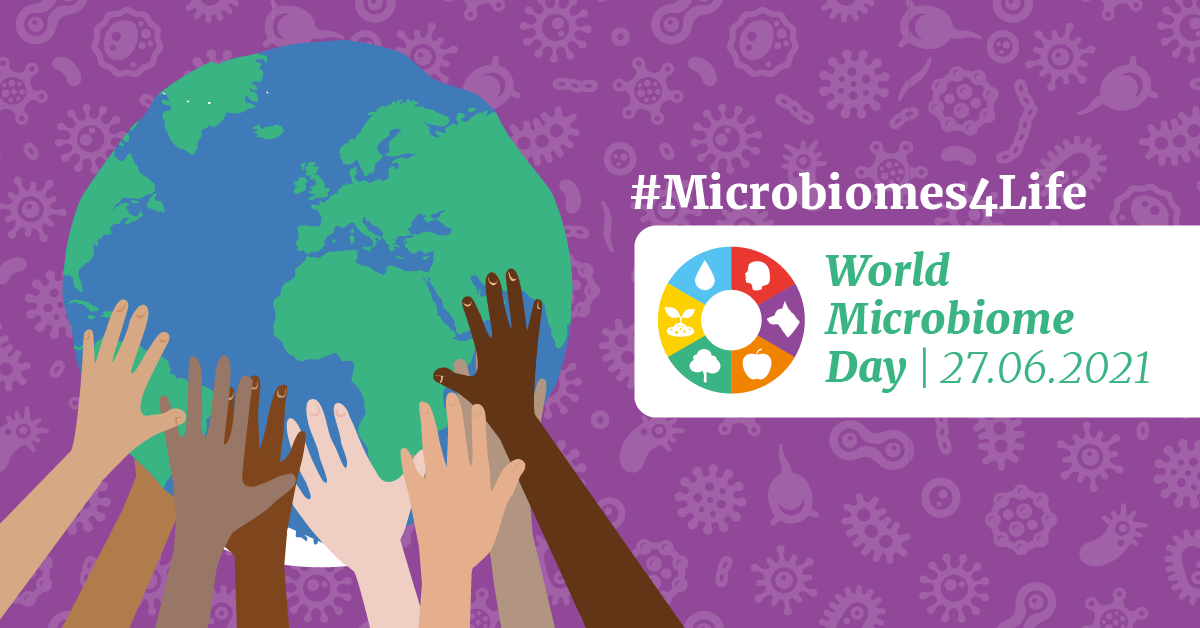 In less than one month, on 27th June, we are celebrating this year's World Microbiome Day!
2021 the focus will be on 'Sustainability' and how microbes can contribute to a sustainable future. Microbiomes have a tremendous effect on the health and balance of our environment and they are essential for maintaining healthy global ecosystems. They are actively contributing to clean environments, sustaining food systems, mitigating climate change and keeping people healthy. 
Did you know that marine microbes produce most of the oxygen we breathe or that some microbes in the soil fix nitrogen which plants can use to grow? Other microbes have the capacity to break down methane gas, which is a potent greenhouse gas and contributes to climate change. 
There is so much to discover about the importance and potential of microbiomes for a sustainable future! Get involved by participating in the various activities and events around World Microbiome Day and by sharing your enthusiasm for all things microbes.  
The World Microbiome Day will host competitions for young and old. Kids are invited to participate in a drawing competition on microbiomes and sustainability and for all other microbe enthusiasts there will be a challenge of showcasing your food microbe hobby. Visit the website to find out more details and discover the prizes that you can win. Are you organising an event yourself? Have a look at the tips on how to organise a virtual event and do not forget to register it here on the World Microbiome Day website. 
MicrobiomeSupport is planning to actively raise awareness on the importance of microbes on 27th June 2021 via a social media campaign. We have also joined forces with our sister projects and we have created a lot of exciting new content on microbiomes in the food system. Stay tuned and look out for the hashtag #Microbiomes4Life to make sure you don't miss it! 
Follow us on Twitter @MicrobiomeEU to find out how we are contributing to the day, as well as @EUFIC's, @SciFoodHealth's and @WMicrobiomeDay's Twitter, Facebook and Instagram channels. 
For more information visit worldmicrobiomeday.com!